Looking for ideas to keep your kids active and healthy during the hot summer months? Summer Camps at Focus are the answer, where giving them the freedom to climb easiest thing to do.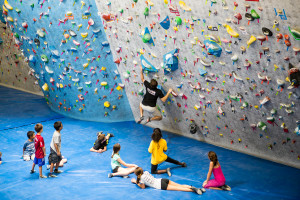 Kids will enjoy:
Rock climbing (terminology, proper movement and technique)
Yoga for kids
Development of basic agility, balance and coordination
Playing games and other fun physical activities
Summer Camps at Focus are limited in size (12 kids maximum), and guarantee more individual time with our professional instructors. Don't pay big money for group babysitting.
DATES:  Camp runs in weekly sessions starting June 1st through July 27th
TIMES: Half Day 9:00a-1:00p or Full Day 9:00a-3:00p
COST: Half Day $249/week or Full Day $299/week
AGES: 6-12  years.
Daily rates are available (if space is available): $49 for half day and $69 for full day.
IF there are 4 or less kids enrolled for a given week, that week of camp will be cancelled 7 days in advance.
IF there are only 4 days of camp, your week will be prorated.
There are no discounts given on daily rates.
There is a 10% sibling OR multiple week discount.
Lunch is NOT included for either half or full day camps. ONE snack break provided by Focus.
Camp dues are non-refundable with 7 or less days notice.
Focus must be notified of any special needs/behavioral issues/medications prior to the start of camp.
Before or After Care is $20/hr. This is for any drop-offs earlier than 8:45am or pick-ups after 3:15pm.
Sign up for something new this summer – Please call 480.718.5258 or email INFO@focusclimbingcenter.com